Creating and Connecting the Cloud Configuration
Following the full setup of your custom Report Suite, you are now ready to add the configuration to Stackchat.
Next click on Web Services to view your web services credential.
Open Stackchat and go to Cloud Configuration and click Add Configuration.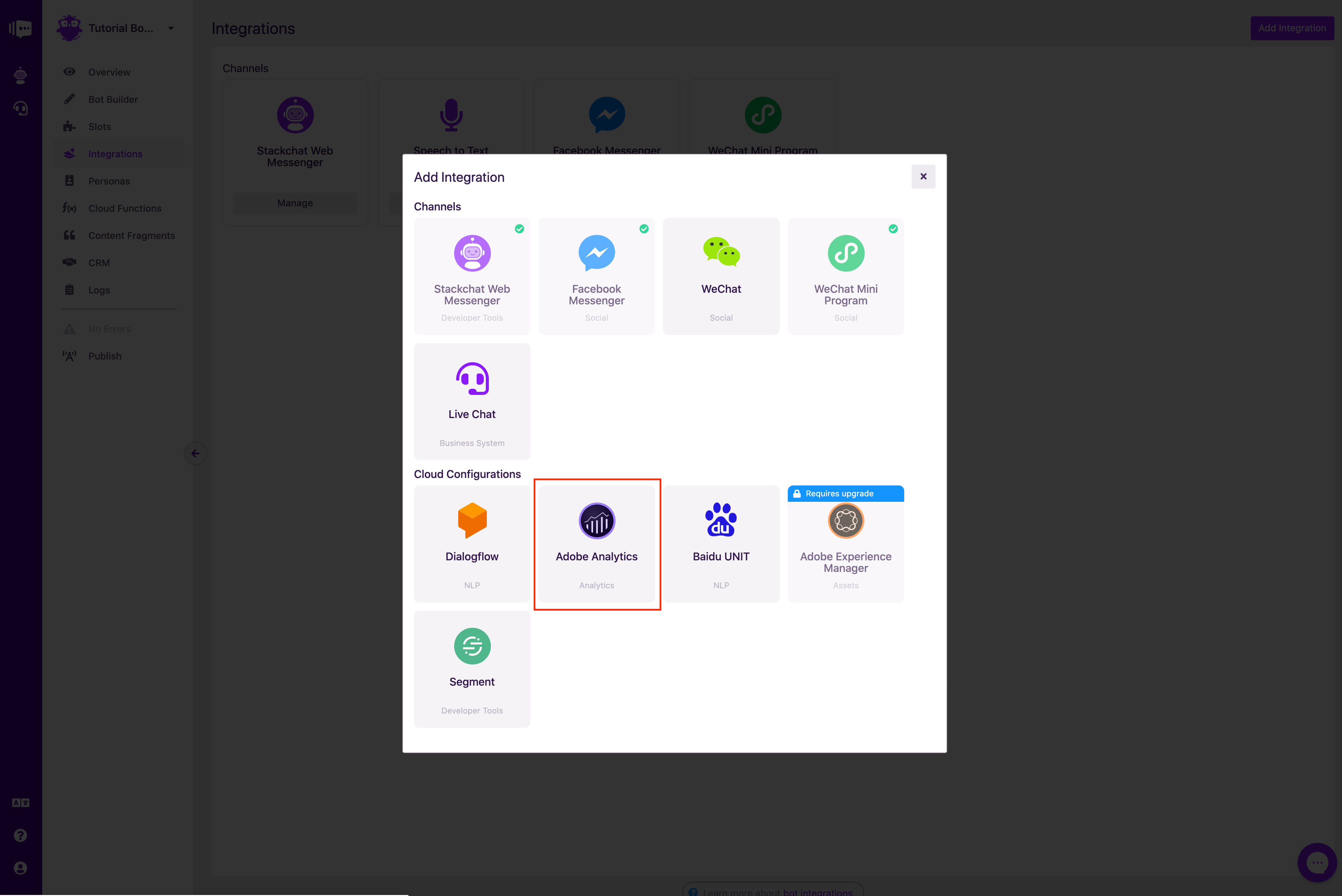 Click the Adobe Analytics box.
You will see the righthand modal below.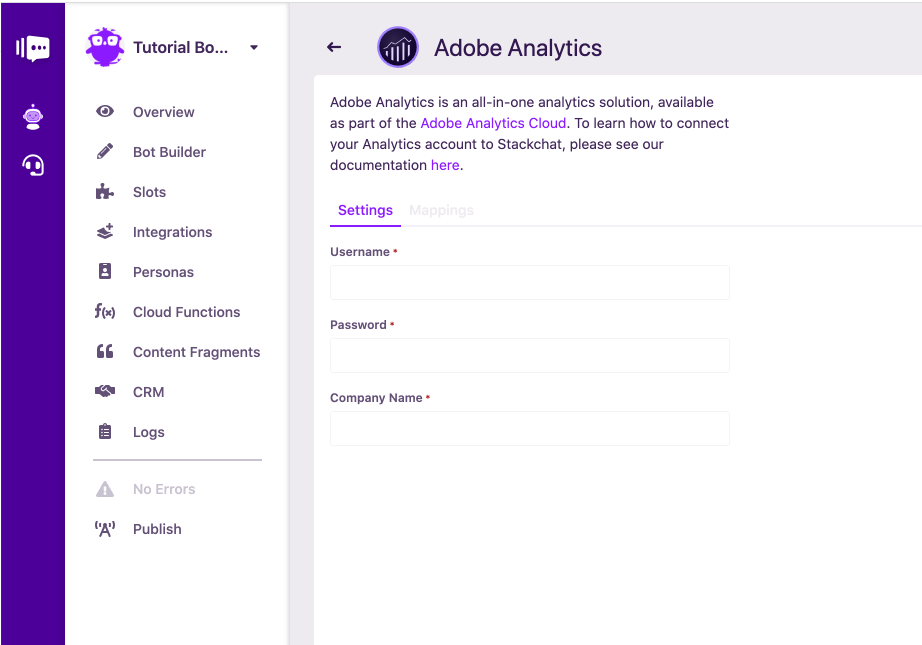 Click OK. It will be OK.
There are four fields that need to be filled: Configuration Name, Username, Password and Company.
Name is entirely up to you. Choose a name that best helps you remember its purpose should you need multiple Adobe Analytics cloud configurations.
In a separate tab or window, open Adobe Analytics and continue to Admin > Company Settings.
You cannot use just the email address associated with your Adobe ID to fill the username field. Go to Admin > Company Settings. Then select Web Services from the menu.
Find the column labeled Web Services Username, and locate the Web Services Username associated with your Adobe ID. It should be in the format of Adobe ID:Associated Company Name.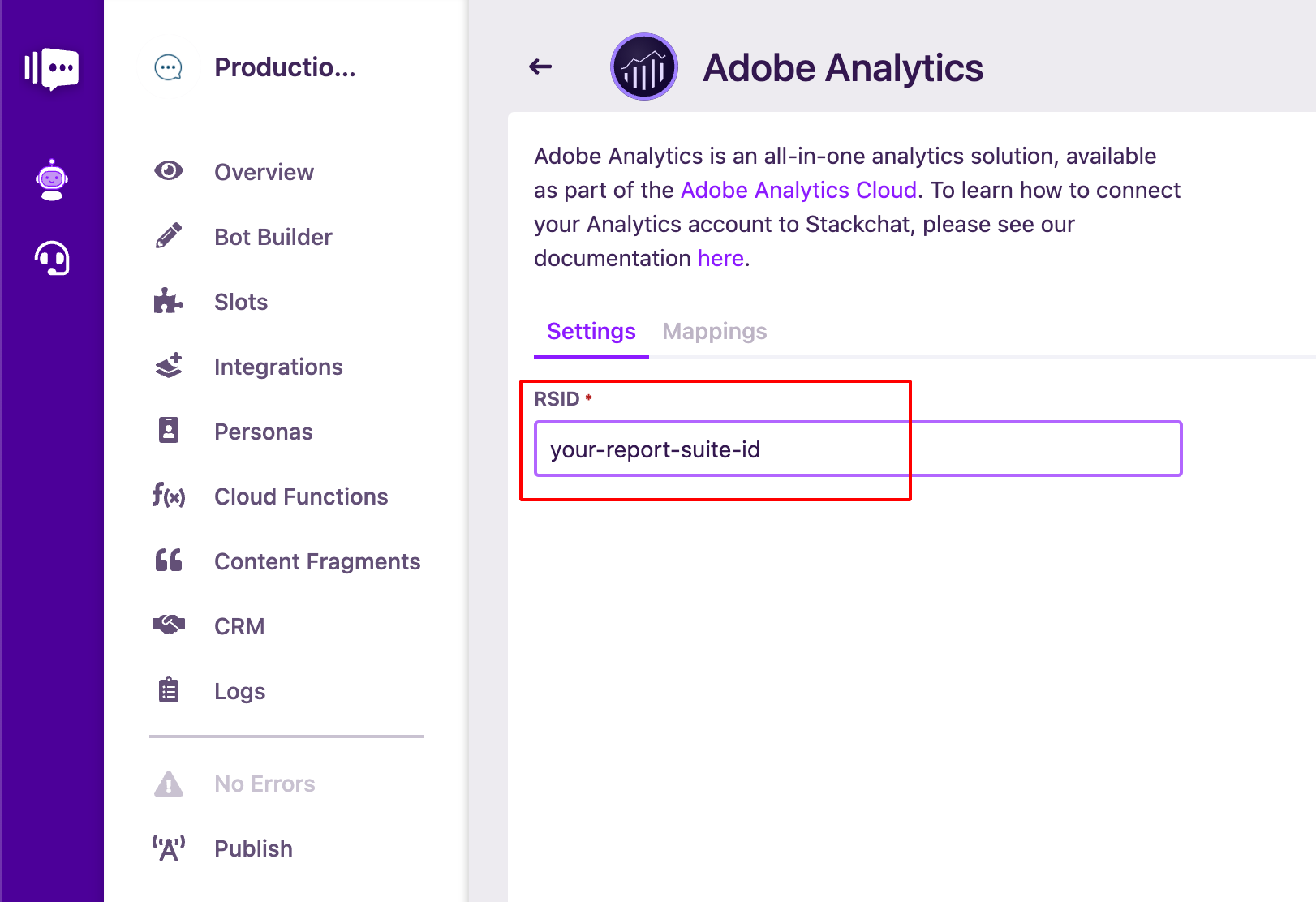 Your Web Services may have multiple users to maintain password integrity.
Copy and paste your Web Services Username into the Username field in Stackchat.
In the Password field in Stackchat, enter the Shared Secret associated with your Web Services Username from the page shown above.
In the company field, put the associcated company name that has been configured in Adobe Analytics (this should match the value in the second half of your username).
Hit the Add Configuration button, and Stackchat will verify your credentials with Adobe. If they are valid, your Cloud Config will be successfully created, and you are now ready to connect your config to a bot!
Connecting your Configuration to Bots
Now you can simply choose that configuration on your bots' pages under Integrations.
Click the Add Integration button at the upper right of the Integrations page and select Adobe Analytics: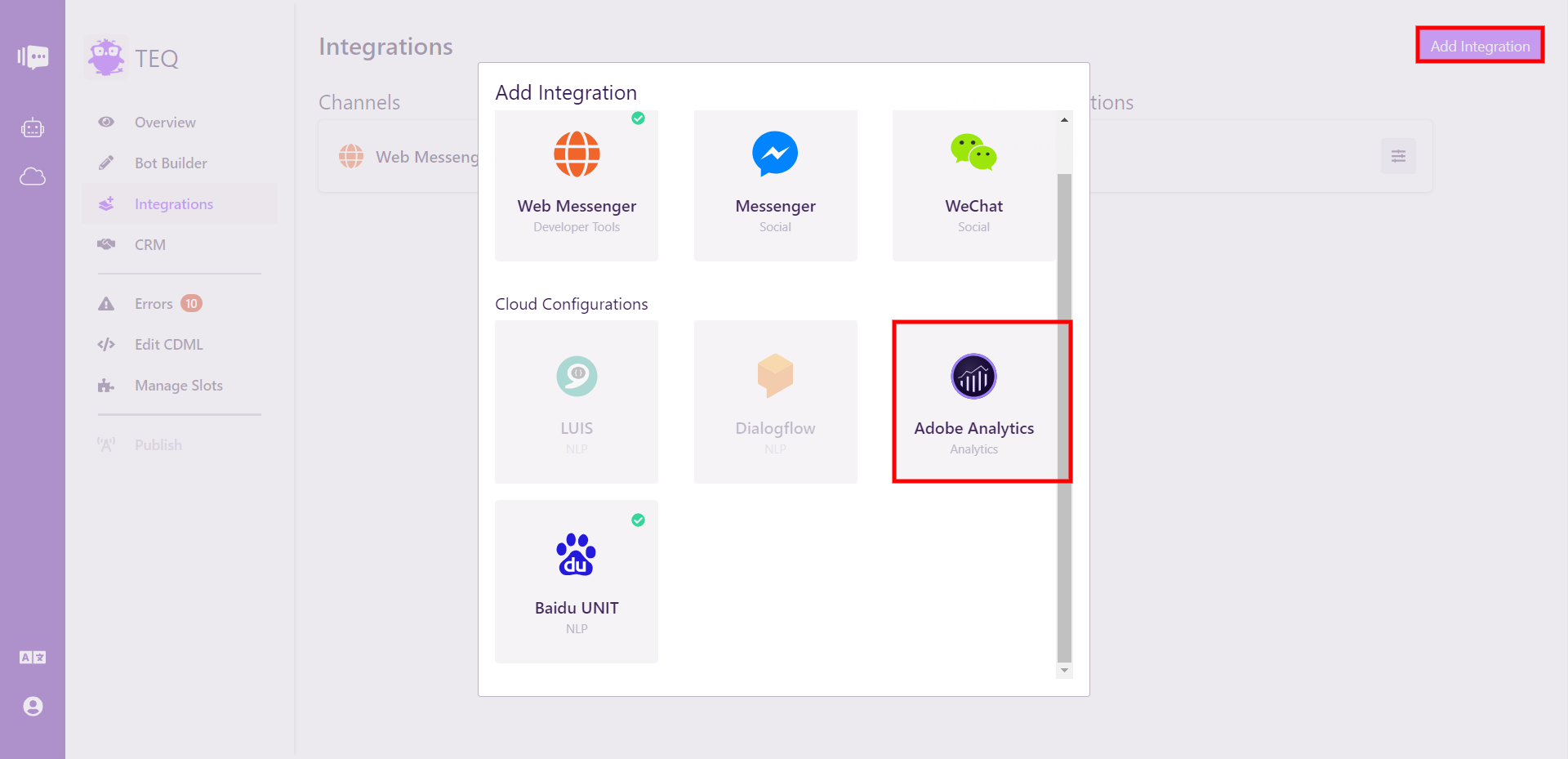 Integrations with no existing Cloud Configurations cannot be selected.
Select the Adobe Analytics button in the popup and then choose your desired Adobe Analytics Cloud Configuration (most users will have just one) and then choose the report suite you want.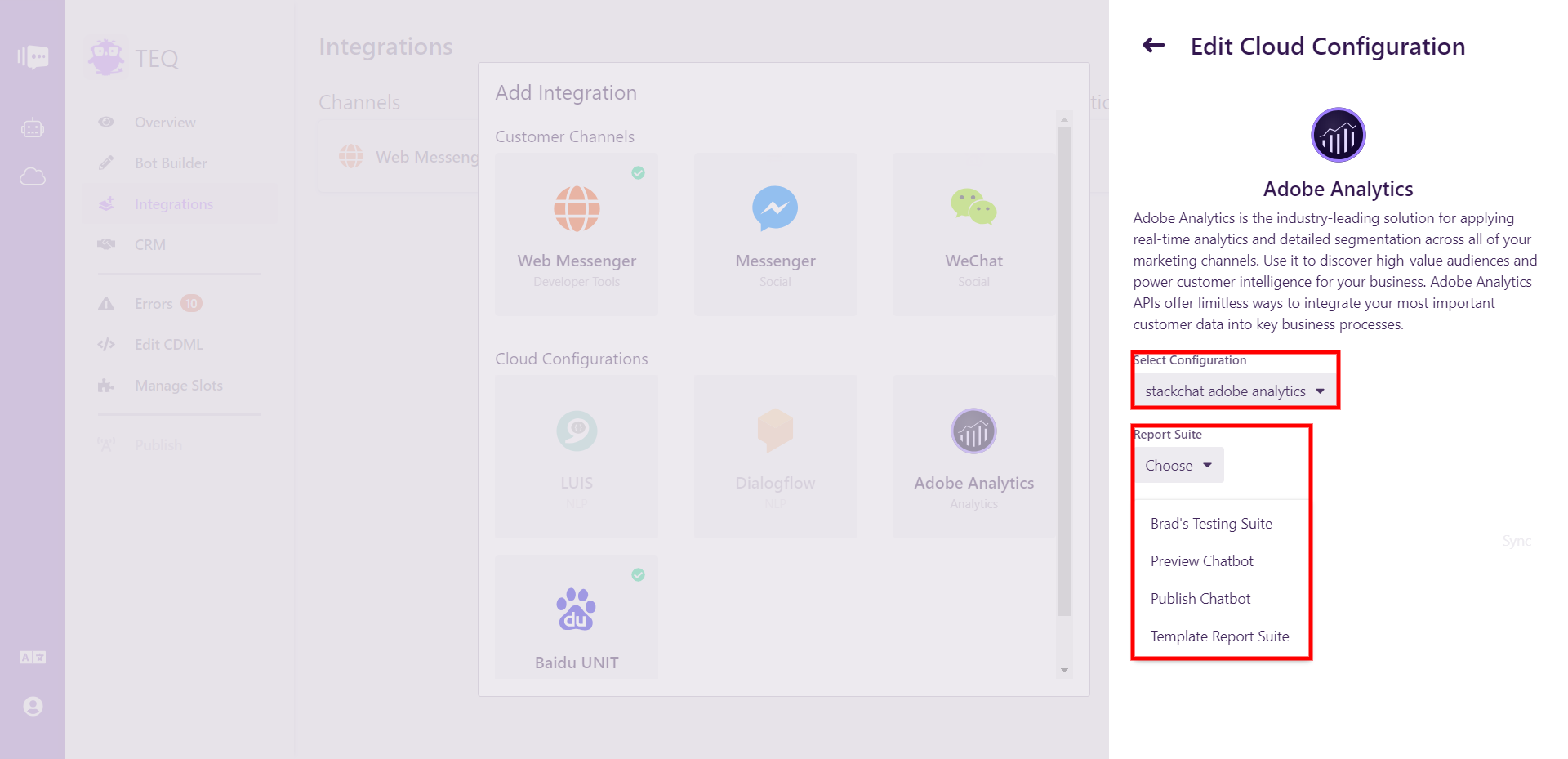 Report Suites are pulled directly from the Adobe Analytics API.
The linkage can also be done via link from the Cloud Configurations page. Find and click your Adobe Analytics configuration and click Link to Bot at the bottom left in the side modal.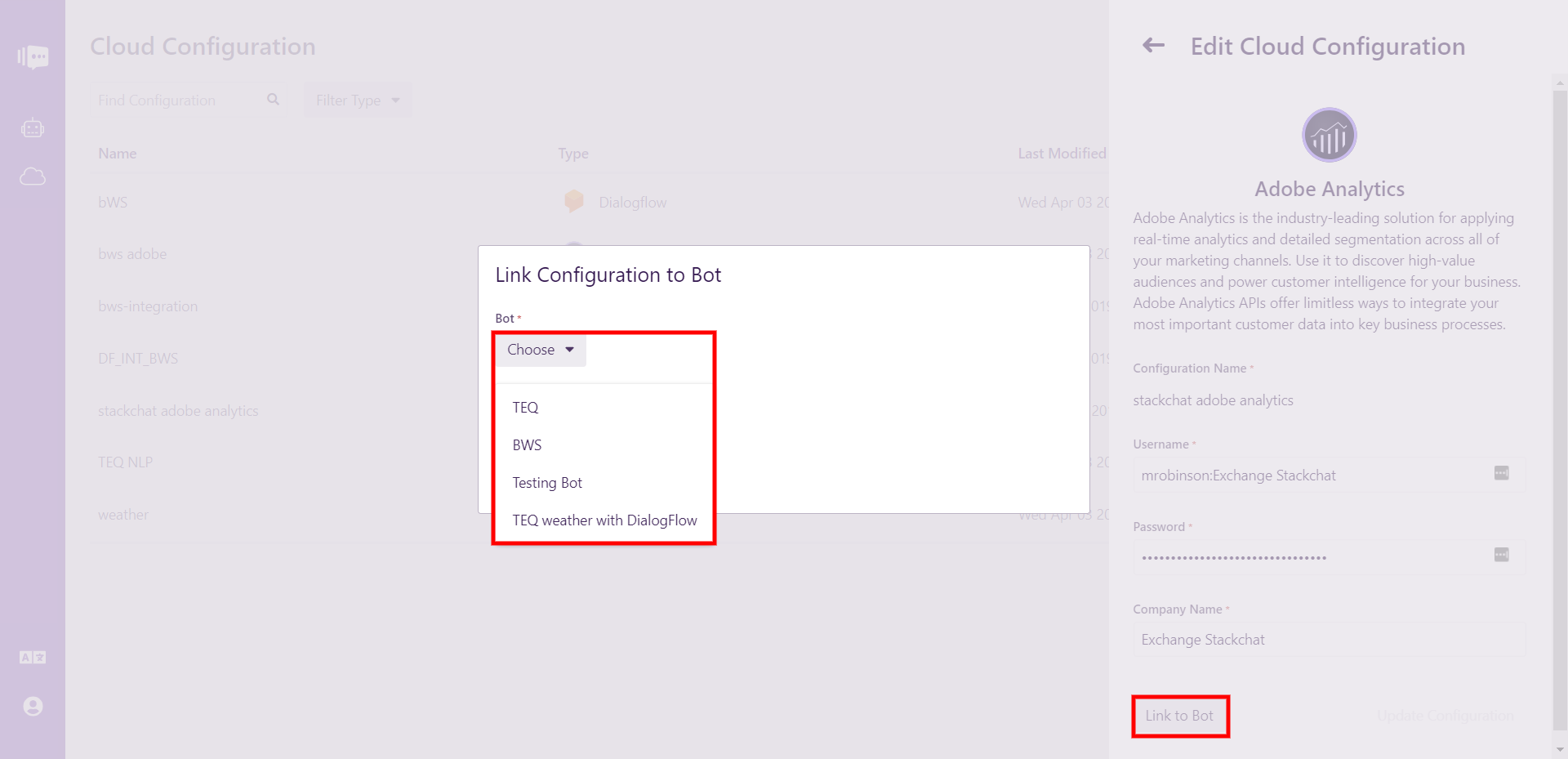 Linking a single Adobe Analytics Report Suite to multiple bots is best practice.
Choose the desired bot and you will then be redirected to that bot's page, where you can follow the directions at the beginning of this section.
Data from interactions with your bot is now flowing into Adobe Analytics!