Initial Configuration
In order to achieve integration with Adobe Analytics, we have documentation to aid your organization's analytics specialist in getting Stackchat data into your existing Adobe Analytics implementation.
Only one Adobe Analytics configuration is necessary across all your bots (although more may be desirable), as they can be filtered by Bot ID.
The first step to connecting Stackchat to Adobe Analytics is to create a Web Services product profile in your Adobe Analytics account. This allows Stackchat to send data using the Adobe Analytics v1.4 API. This step must be done by an Experience Cloud administrator.
To generate a Web Services Credential, you will need to log in to the Experience Cloud Admin Console.
Once you've logged into the console, you will arrive at the Overview page, which lists all of your available Experience Cloud products. Locate Adobe Analytics and click the Adobe Analytics icon. (Do not select Go to Analytics.)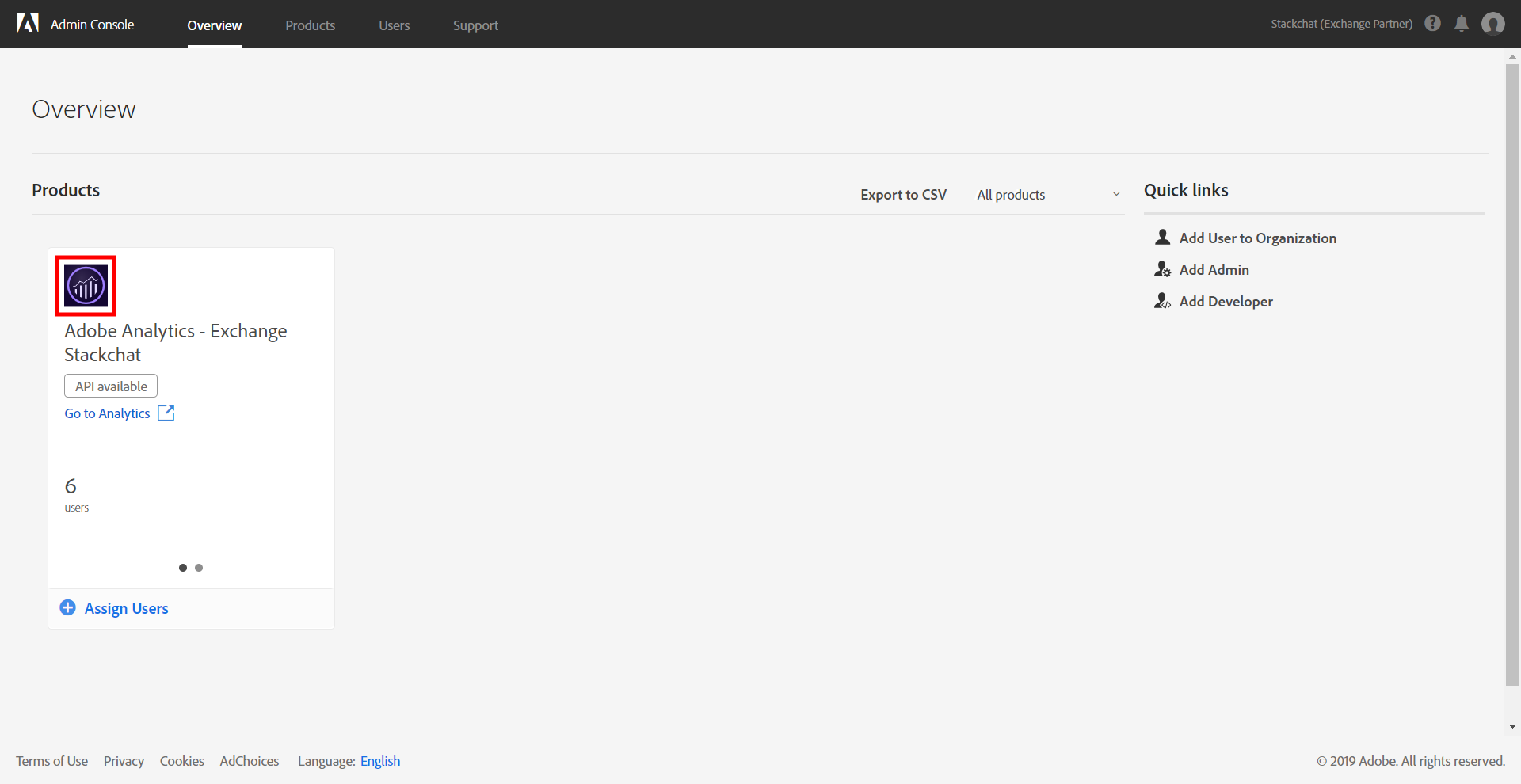 This can also be accessed from the Products page.
You will now see the Product Profiles page. If a Web Services credential already exists, you can proceed to the next step. If not, you will need to create one now.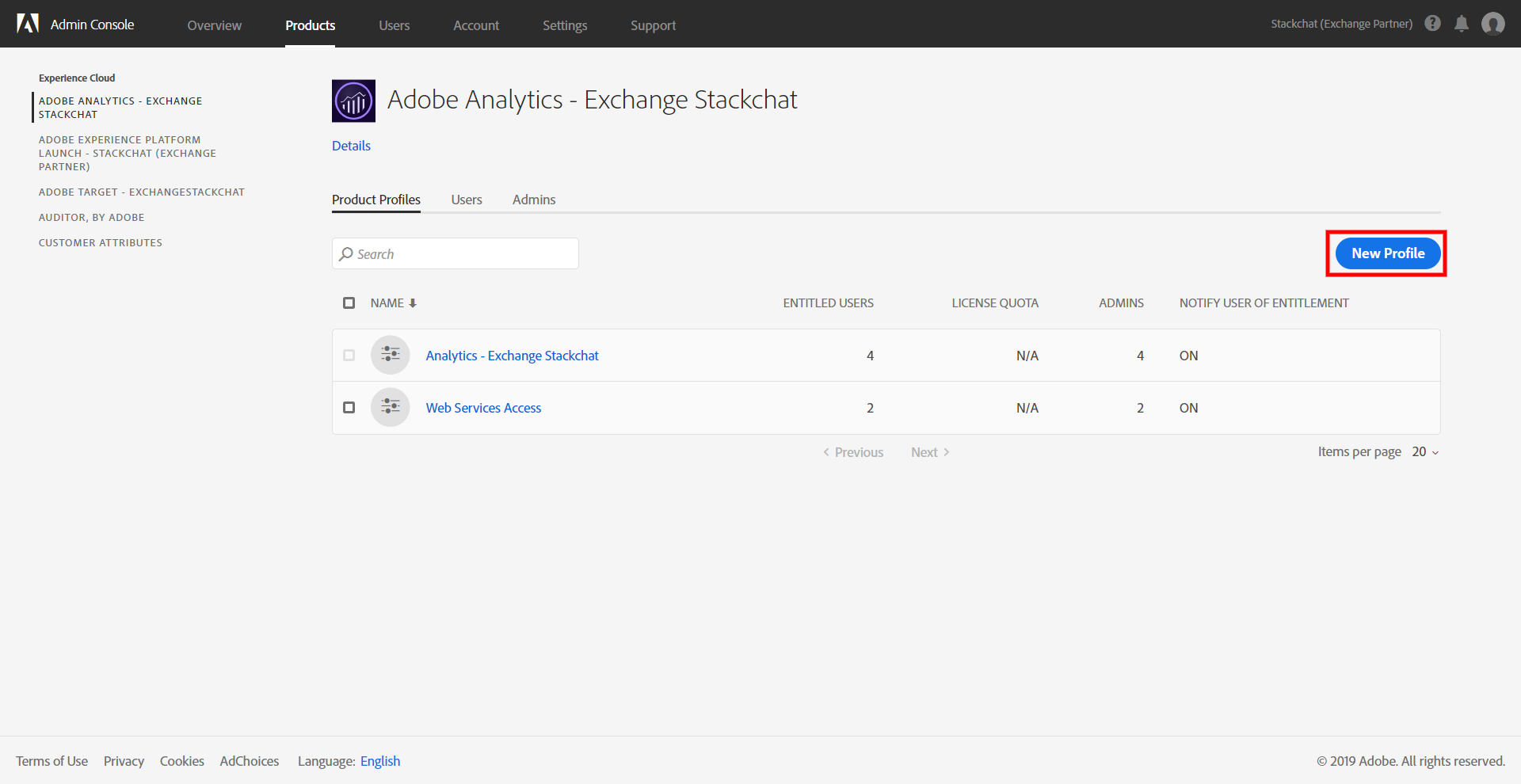 The New Profile button is at the upper right.
Give your new profile a name, a display name if desired, and an optional description and click Done.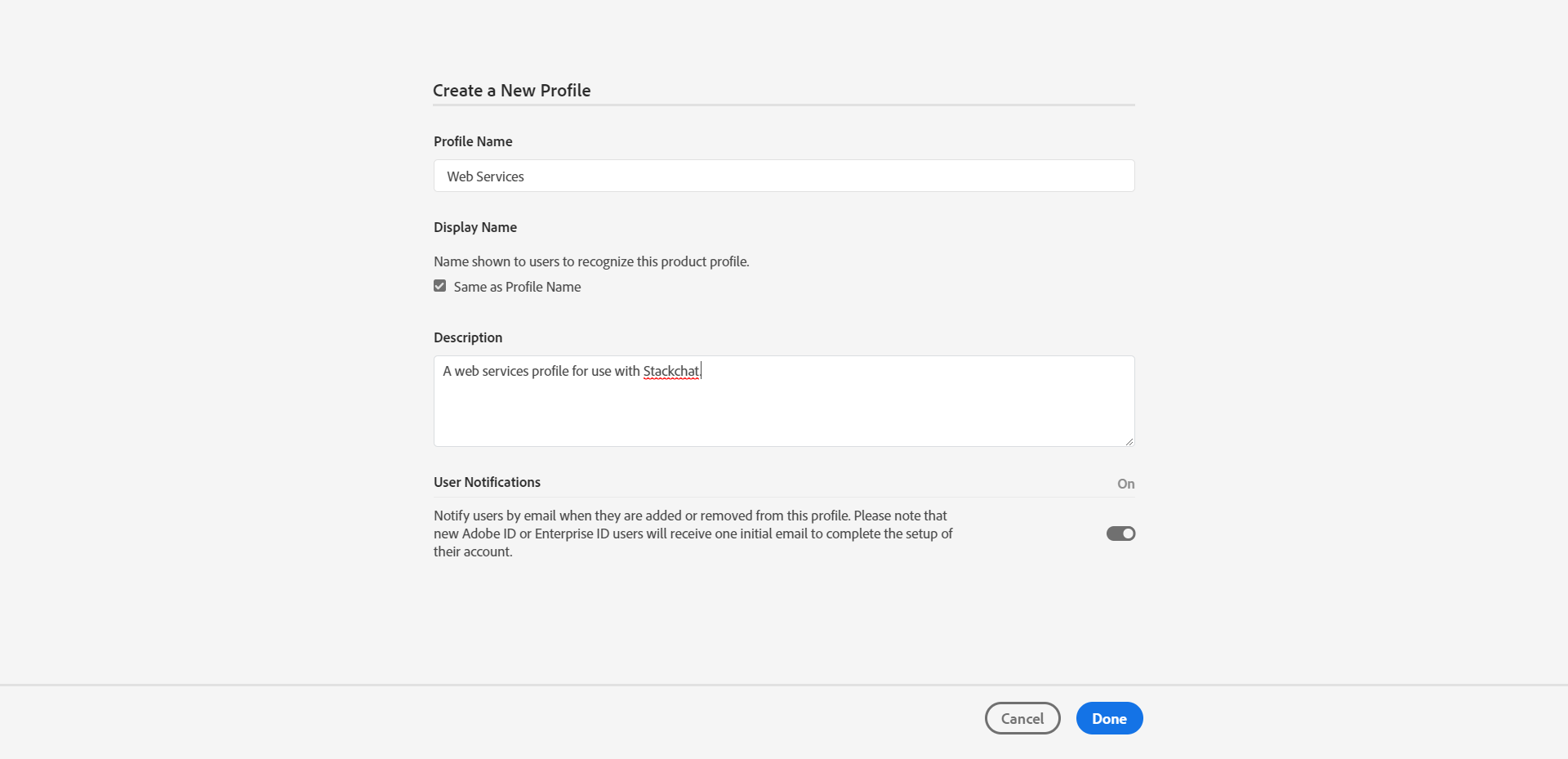 Display name and description are both optional.
You will now be returned to the Product Profiles page and should see your new Web Services credential. Next, you'll want to add yourself to the profile. Clicking on your Web Services credential will take you its users page.
Your Analytics will likely have only one profile.
Click Add User.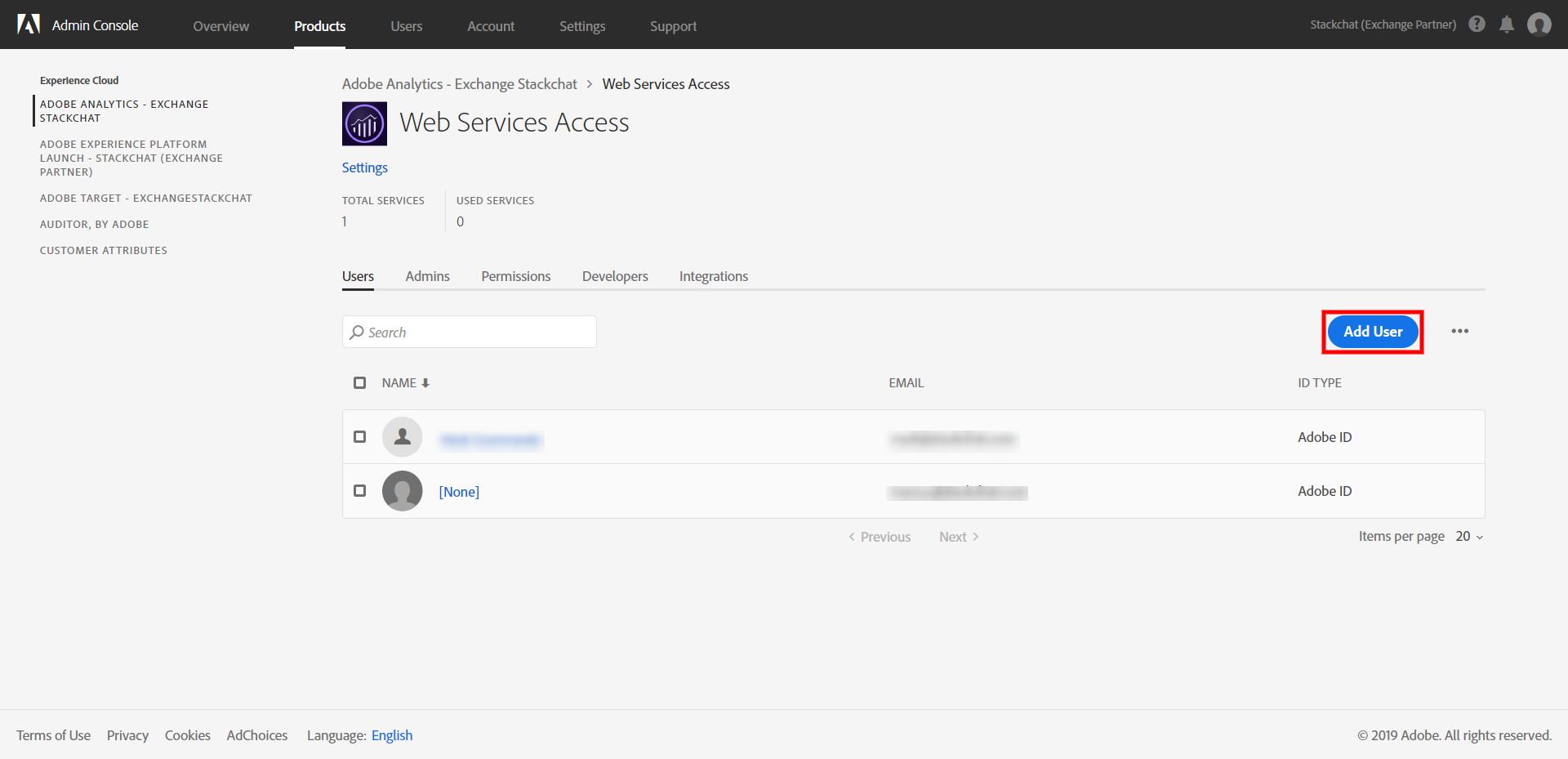 Add as many users as are useful to your organization.
Enter the email address of the user you wish to add and click Save.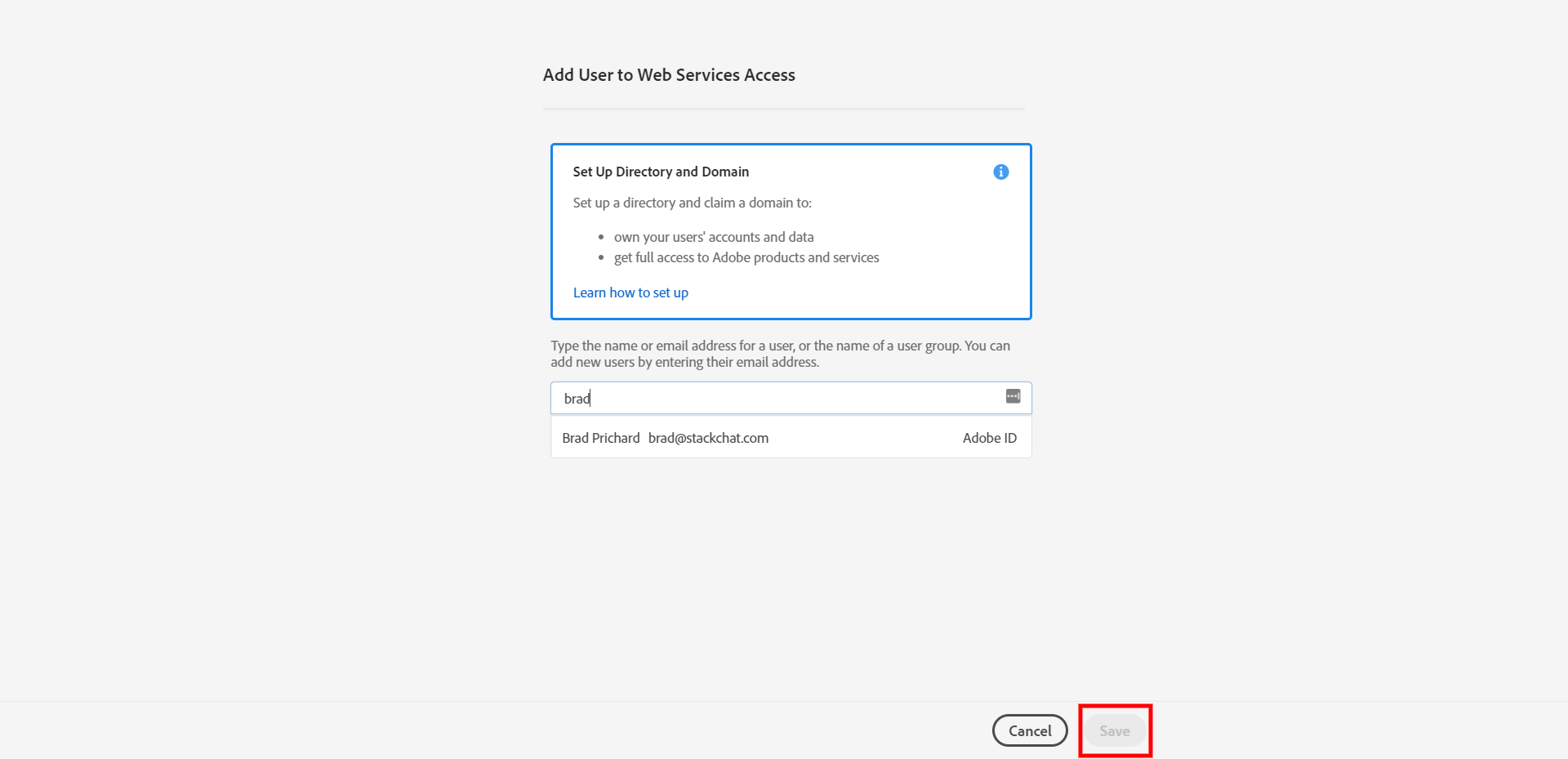 Adobe checks against active users in your organization.
You can add any additional users who will be working with Stackchat to the profile as well at this time. All users you wish to add are required to have Adobe IDs associated with your organization's email domain.